Keeping Warm with Nanotechnology: Aerogel Insulation
Introduction
Keeping warm is a major concern for many people during the winter months. Rising fuel costs mean that just keeping a house warm in cold weather can be a struggle, and good insulation is vital to keep costs manageable.
Recent developments in materials science and nanotechnology have enabled the development of novel methods for thermal insulation. Aerogel is a nanostructured material which is becoming more and more popular as a material choice for insulation in many applications, from houses and commercial buildings to oil pipelines and space probes. Aerogel insulation is said to provide about 40 times the insulation provided by fibre glass, which allows its use in space-restricted scenarios, and even in insulating glass panels.
Whilst many of the commercial applications so far are in construction, aerogel insulation finds applications in deep sea gas and oil pipes, medical devices and space vessels. Technological improvements to traditional aerogels have enabled many of these applications, and continue to make this novel material progressively more commercially viable.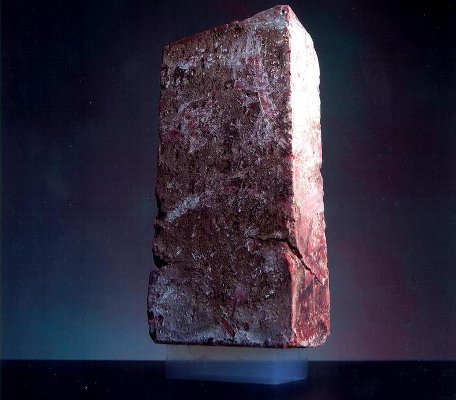 Figure 1. Despite it's incredibly light weight and almost transparent appearance, aerogel is very strong. This image shows a 2 g block of aerogel supporting a 2.5 kg brick. Image credit: NASA
Aerogel: An Overview
'Aerogel' is a highly porous, solid foam, with well connected nanostructures. It is generally made of silica and can have several shapes and forms. However, organic polymers, carbon, copper, gold and semiconductor nanostructures are also capable of forming aerogels. About 99.8% of the aerogel structure is nothing but thin air, giving it a ghostly appearance and earning it the name of 'solid smoke'. Aerogels are produced by drying gels at high temperatures.
The key properties of aerogels are listed below:
Extreme lightness - density range - 0.0011 to 0.5 g cm-3
Low thermal conductivity
Low mean free path of diffusion
High specific surface area for non-powder materials
High strength
Low refractive index
Low sound speed
Low dielectric constant
The major applications of aerogels are the following:
As insulating material in spacesuits
To capture comet dust
In insulating boards and wall insulation
Insulation in Space
In 2006, NASA Kennedy Space Center's Cryogenics Test Laboratory performed physical and thermal characterizations of aerogel beads under cryogenic-vacuum conditions. Insulation systems based on aerogels were studied to enhance the performance of aerogels in space launch applications. These nanoporous materials were found to be ideal for thermal insulation systems, as they did not cryopump after the initial phase of cooldown and thermal stabilization. Research and development were ongoing ever since to enhance the functioning of insulation systems in space launch vehicles such as the Space Shuttle External Tank.
However, according to the NASA scientists, the flexibility of conventional silica-based aerogels is not sufficient enough for use in decelerators. To tackle this, researchers from the NASA Glenn Research Center and Ohio Aerospace Institute recently developed aerogels using high-temperature polymers, which were about 90% porous, ultra-thin, more flexible and about 500 times stronger than the silica-based aerogels. They believe that these new aerogels can survive the harsh atmosphere in Mars as they can be intact at up to 400°C and are ideal for use in decelerators.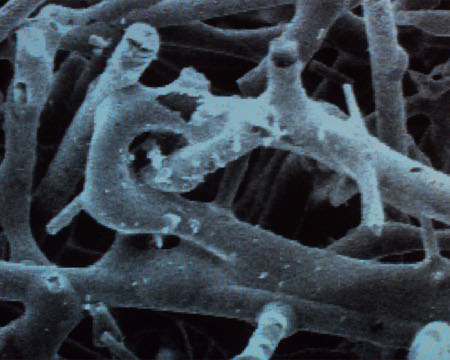 Figure 2. A close-up image of the fine polymer fibres that make up aerogel's structure.
Image credit: NASA
The team also made an aerogel using OAPS, a 50-50 mole % mixture of 2,2'-dimethylbenzidine and 4,4'-oxydianiline, and 3,3',4,4'-biphenyltetracarboxylic dianhydride. The 50/50 combination of amines enables good moisture resistance and flexiblilty in the aerogel, according to the scientists. The research group is all set to join Boeing to test their new aerogel at the high heat fluxes it would need to withstand while entering the atmosphere of Mars.
The evolution of aerogels from silica-based to polymer-based materials is largely thanks to such research by NASA. As well as having superior thermal and mechanical properties, production of polymer aerogels also results in significantly less chemical waste.
Commercial Aerogel Insulation
Thanks to its unique properties, aerogel is already widely used commercially for insulation purposes. Some of the key aerogel insulation products available today are discussed below:
Spacetherm®
Spacetherm® is a thermal insulation from Proctor group that saves valuable space without altering the exterior fabric of the building. Spacetherm is supplied on its own and cut to size or laminated to a number of facings to suit individual requirements. Its remarkable performance is achieved through the use of flexible aerogel blankets. The insulation used in Spacetherm is a material derived from silica gel.
Spacetherm offers a K factor of 0.014 W/mK, resists mould growth, and consistent thermal performance over the course of a 50 year product lifetime. The material used is eco-friendly, and has almost no ozone depletion and greenhouse gas emissions associated with it.
Thermablok®
Utilizing aerogel insulation technology developed by NASA, the highest insulating material in existence - Thermablok® - is a highly efficient, aerogel-based insulating material that breaks conductive "thermal bridging" and can increase the overall wall R-value by more than 40%.
Aerogel has been difficult to adapt to most uses because of its fragility. The patented Thermablok material overcomes this by using a unique fiber to suspend a proprietary formula of aerogel so that it can be bent or compressed while still retaining its amazing insulation properties.
Now available to the building industry, a 3/8-inch x 1½-inch (6.25mm x 38mm) strip of Thermablok added to each stud before hanging drywall can tackle thermal bridging and achieve maximum R-factor value. Thanks to its hydrophobic properties, Thermablok will not age, mold, or mildew. Thermablok aerogel insulating material is environmentally safe and recyclable.
Thermablok aerogel insulation is made up of a composite material consisting of aerogel embedded within a fiberglass matrix. Available in self-adhesive strips that attach easily to the stud, Thermablok maintains its R-value over time, under a wide range of conditions. Thermablok makes aerogel insulation available for both home and commercial use.
Nansulate®
Nansulate® Energy Saving and Asset Protection Coatings are award-winning products powered by the science of nanotechnology. They offer a highly effective combination of benefits which include thermal insulation, corrosion resistance, mold resistance, moisture resistance, UV resistance, chemical resistance, flame resistance, and lead encapsulation.
This patented technology has been available since 2004 and has been providing energy saving and protective solutions for industrial, commercial, government and residential customers around the world. Nansulate® Coatings are made in the U.S.A and are environment-friendly, low VOC coatings which provide good energy savings.
Recent Developments
Recently, Cabot Aerogel and Advanced Glazings Ltd. have jointly developed insulated glass solutions that feature flexibility in architectural design, high thermal efficiency, and light diffusion, called the SOLERA® + Lumira® R5 systems. They feature a 1-inch thick panel with glass units insulated with Lumira aerogel, which diffuses sunlight and removes glare, hot spots and shadows.
These high performance systems provide exceptional thermal protection and glare control and sustainable daylighting systems. These aerogel insulated glass units have opened up many exciting possibilities for designers to apply these lightings in a wide range of buildings from schools to medical facilities. Construction solutions using aerogel are likely to become more and more popular in the near future, particularly for warehouses and commercial buildings, but increasingly in residential construction as well.
NanoLabs Corp. has been recently issued a provisional patent for its advanced thermal insulation coating, a key milestone for the nanotech company. It believes that this provisional patent will help the company commercialize their novel nano thermal insulation product in partnership with other companies in the industry. This coating also offers protection against fire and heat up to about 1,500 °C (2732°F). The nano-coating can be applied to wood or metal surfaces and is rust-, water- and corrosion resistant, thus is highly durable. Nano Labs hopes to mass produce this novel coating and make it economically and commercially viable for use in all possible applications.
Future of Nano-Insulation
The global aerogel market in 2008 accounted for about $82.9 million and is likely to touch $646.3 million by 2013, driven by demand in the acoustic and thermal and insulation applications. Despite this, currently available aerogel insulation products are highly priced and their use is restricted to a few pilot projects. The latest developments in aerogel materials, such as nano-polymer aerogels with better mechanical characteristics, are in the early development phase now.
The key challenge for aerogels to gain market share will be to find a cost-effective method for mass producing stronger and lighter aerogels. Due to this, affordable aerogels for consumer applications may not be available for a few years.
Fundamentally, however, aerogels are not made from expensive raw materials, and their incredible thermal properties makes them ideal for specialist applications. Increasing adoption in these niche areas will drive down the cost of aerogel insulation, and before too long you may find this incredible material keeping your house warm in the winter!
Sources