Caging Atoms For Efficient Electricity Generation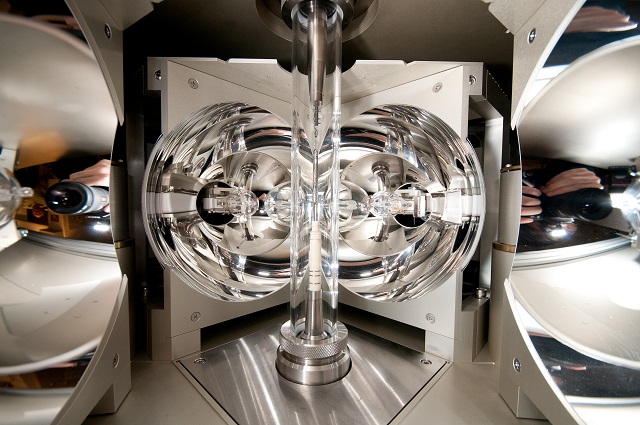 This is the Mirror Oven at the Vienna University of Technology, in which the novel material was created. Image Credit: TU Vienna
A new class of thermoelectric materials has been created that could make efficient use of the energy that is generated when machines heat up.
We are all familiar with the concept of laptops heating up as we use them, and for the most part it causes us little inconvenience. Unfortunately, this heat that dissipates into the surrounding atmosphere is essentially a large waste of energy.
Therefore, much recent scientific research has focussed on the creation of 'thermoelectric' materials that could harvest this lost energy and convert it into electricity. This concept is explained further by Professor Silke Bühler-Paschen in a recent press release:
"The thermal motion of the electrons in the material depends on the temperature. On the hot side, there is more thermal motion than on the cold side, so the electrons diffuse towards the colder region. Therefore, a voltage is created between the two sides of the thermoelectric material."

A major area of importance when researching these materials is energy efficiency; i.e. the ratio between useful energy output compared to the input energy (in this case the heat from a machine).
Now, a team from the Vienna University of Technology has succeeded in producing an innovative thermoelectric material that has low thermal conductivity and high thermoelectric power.
The key to the material's unique properties is its internal crystal structure, which traps magnetic atoms. The magnetic atoms then proceed to rattle around the crystals, called Clathrates, generating the beneficial thermoelectric properties.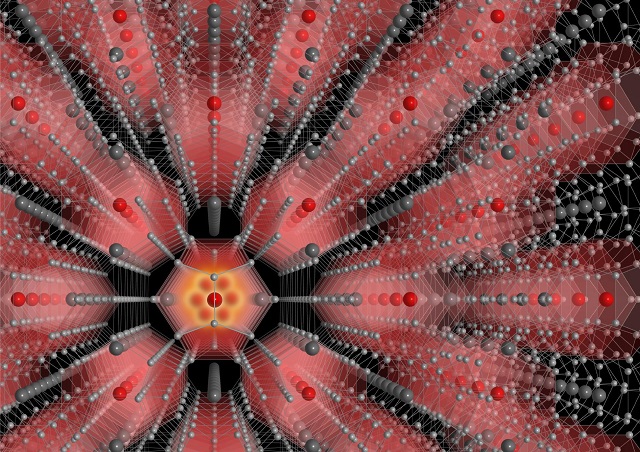 Clathrates: Tiny cages enclosing single atoms are shown. Image Credit: TU Vienna
This is not the first time that such a material has been attempted, but whereas other elements used did not meet requirements, Professor Andrey Prokofiev succeeded in creating clathrates using barium, silicon and gold, with single magnetic cerium atoms trapped inside. Bühler-Paschen explains the reasoning behind using cerium below:
"We came up with the idea to trap cerium atoms, because their magnetic properties promised particularly interesting kinds of interaction".

A quantum mechanical correlation known as the Kondo effect plays a surprising role in the change in electrical resistivity with temperature up to a few hundred degrees Celsius, even though it is typically used in low temperature physics.
"The rattling of the trapped cerium atoms becomes stronger as the temperature increases. This rattling stabilizes the Kondo effect at high temperatures. We are observing the world's hottest Kondo effect."

It is hoped that these clathrate crystals will become economically viable in the future, providing the cost of producing these structures can be reduced by substituting in cheaper, alternative elements.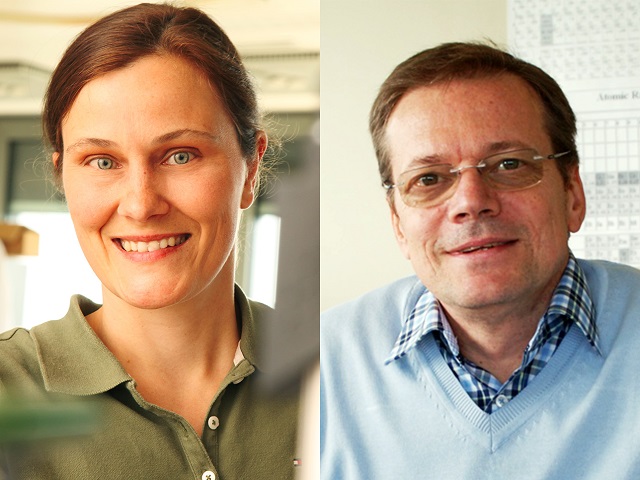 Professor Silke Bühler-Paschen (l) and Professor Andrey Prokofiev, Vienna University of Technology. Image Credit: TU Vienna